We help you fulfil your Tuscan vacation dreams
WORLD FAMOUS ART, GLORIOUS MIDDLE AGES AND RENAISSANCE BEAUTY. IMPRESSIVE SCULPTURES AND UNIQUE ARCHITECTURE. MICHELANGELO, DONATELLO, GHIRLANDAIO AND GIOTTO.
THE SCENT OF ROSEMARY AND SAGE. RUBY RED, FULL-BODIED WINE WITH PEARS AND PECORINO. GARLIC BREAD WITH INTENSE, GREEN EXTRA VIRGIN OLIVE OIL. THYME AND TOMATOES. CAKES WITH SUCCADE AND HONEY. CHESTNUTS AND VIN SANTO.
THE SOUND OF THE CICADAS, BREAKING WAVES AND THE BEAUTIFUL CHORDS OF PUCCINI AND MASCAGNI.
THE FEEL OF SOFT WOOL, FINE SILKS, CRISPY LEATHER, SAND AND ROCKS. THE SWEET CARESS OF THE SUN AND THE WELCOMING SHADE IN THE NARROW STREETS.
TRADITION AND PRIDE. SCIENCE, CRAFTMANSHIP AND HISTORY. TOWNS CREATED BY AND FOR MANKIND.
THE SOUL OF TUSCANY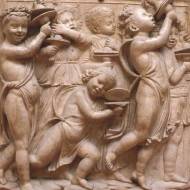 Inspiration
Toscana con Amore - this is how we offer you Tuscany.
Take a closer look at the links below or at the menu to get an idea of the endless, versatile and multicolored opportunities.
Send us an email to; info@toscana-con-amore.dk
We are always joyful when you choose our beloved Tuscany as your next travel destination. We do our very best to fulfil your wishes and expectations which is why we often ask so many questions before your holiday. We want it to be perfect.
We value and respect our collaborators highly and know that they supply an exceptional service. Therefore we do not offer discount travels where this quality and your own personal travel experiences may be compromised. We are open and straight forward in the information we supply on agriturismi, hotels etc and no extra last minute fees are applied.
We are honoured and proud to say that your trip to Tuscany will be organized and planned con Amore.